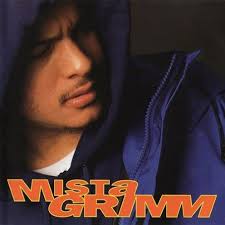 Mista Grimm – Things Are Looking Grimm
Producers: Bobby "Bobcat" Ervin (tracks 1-4, 9-10); Doctor Jam (tracks 5-6); Chase (track 7); Madness (track 8); DJ Pooh, Rashad Coes (track 11); Dej Jef, Meech Wells (track 12); Da Rock (track 13); Warren G. (tracks 14-15).
All songs written or co-written by R. Trawaick. Samples include "Stranger On Earth" (as performed by Diana Washington), "Make Room" (as performed by The Alkaholics), "Dope On Plastic" (as performed by Uptown), and "Color Me Funky" (as performed by Parliament).
Tracklist
1. What The Hell Is A Incrow? – (interlude)
2. I've Had Enough – (interlude)
3. Mighty Brimm – (interlude)
4. Cold Day In Hell
5. Super Bones – (interlude)
6. Steady Dippen
7. Poetry In Motion
8. Hostyle
9. Danger Of Pork, The – (interlude)
10. Da Whole 9
11. Nuttins Changed
12. Pon De Riddum
13. A.S.A.P. (A Smooth-Ass Poet)
14. Jesse Jackum – (interlude)
15. Indo Smoke – (party mix)
16. Can I Phuck On Your Blanket? – (interlude)